BUSINESS WORKSHOP LIBRARY
Be The Savvy Pet Professional With A Business You Can Be Proud Of
Too many Groomers own a job, not a business.
At Savvy Groomer we teach pet professionals how to make simple changes in their business so they can grow a business that is successful.
---
You'll get plenty of advice that doesn't actually make a difference only leading to frustration & overwhelm and feeling like a failure. You have been putting in the effort but don't have anything to show for it. Savvy Groomer helps business dreams come true with expert advice from someone who's been there.
Here's what you need to do:
1) Enroll in the Library
2) Watch Workshops
3) Enjoy your Business
Start Changing Your Business Today
GET ACCESS TO THE BUSINESS WORKSHOP LIBRARY
Annual Membership Includes:
Enjoy over twenty 1-2 hour pre-recorded workshops that specifically tackle common grooming business questions. Including seminars from Grooming conferences! (most sold separately for between $47 - $197)
Tackle simple yet effective business topics to organize and grow your grooming business. Many workshops include workbooks or worksheets to explore in more depth!
$197/YEAR
GET INSTANT ACCESS
What's Inside the Library: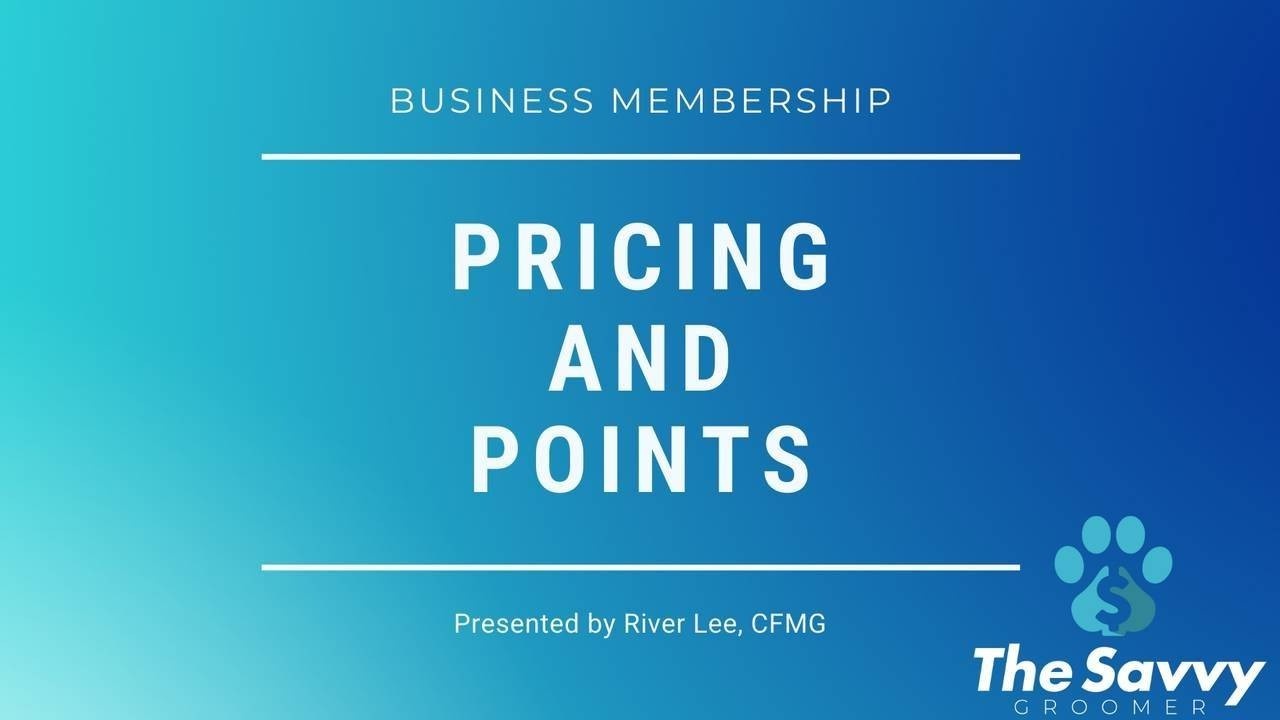 Pricing & Points
Too many groomers do not know how to price appropriately. I will introduce students to a point system that will charge accordingly for work done no matter who in your establishment does the work.
We cover:
Various service charging options

Charging by breed

Charging by the hour

Introduction to the point system

Adapting the point system to your staff
Money or Morals
This workshop is to help you when you're faced with a decision about making money vs doing something you're not sure is right like shaving double-coated dogs, shaving a pet without bathing, de-matting a dog, taking dogs in heat/pregnant, or intentionally quicking dogs' nails.

We cover:
Intro into Controversy

Controversial Topics

Making a Decision

Case Studies

Policies to Support Your Decision
Bookkeeping Basics
One of the most important business practices is to know your numbers. Learn the basics of bookkeeping and the importance of record keeping.
We discuss:
What is bookkeeping

Business accounts

Software and bookkeeping methods

Debits and credits

Bookkeeping tips

Real-life examples
How to Start Planning for Retirement
Do you know how and when you should begin planning for retirement? Learn the basics and options for both business owner and employee. It is never too early or to late to begin planning.
We cover:
Planning for the future

Traditional or Roth IRA

SEP IRA

Simple IRA
Identifying & Attracting Your Soulmate Client
Let's introduce you to the concept of soulmate clients and the marketing strategies to attract and hold on to them.
We cover:
Acknowledging past poor clients and the effect on your business

Marketing basics

Your brand matters

Attracting your soulmate client

Creating client appreciation
Onboarding Clients & Dealing With Difficult Clients
These are written guides to help you prepare your clients to best work with you & things you can do to manage difficult client situations more efficiently.
Once-A-Year Clients
Learn how to manage those once and twice a year-clients with strategies and tactics to make these difficult clients better and less stressful.
We cover:
Acknowledging they are not your soulmate clients

Address your marketing

How they impact your business

Managing the Once A Year (OAY) client
How to Start Planning for Retirement
Do you know how and when you should begin planning for retirement? Learn the basics and options for both business owner and employee. It is never too early or to late to begin planning.
We cover:
Planning for the future

Traditional or Roth IRA

SEP IRA

Simple IRA
Zone of Genius
What is your zone of genius and how does that play a pivotal role in your business? Identifying who are and using your strengths while compensating for your weakness will turn your business into a profit-making machine.
We cover the 3 types of geniuses:
Artist/Technician

Manager

Entrepreneur
Preventing Burnout
Burnout cuts a groomer's longevity and happiness in the pet industry short. Burnout is a major contributor to injuries on both pets and groomers. Learn ways to nip burnout in the bud.
We cover:
Physical burnout

Financial burnout

Mental burnout

Steps to re-establish your passion

Make happiness a priority
Personal Reset
Stop the overwhelm!! Learn organizational concepts to take back control of your business and your life.
We cover:
Benefits of organization

Procrastination

Reclaiming your time

Relationships and their effects

Self-care
Vision Board Guide & Workbook
Vision boards allow you to turn dreams into reality, but you have to know what your dreams are before you can manifest them. You need to take them out of the realms of dreams, and turn them into reality by being specific.
Take Control & Organize Your Business
Create a business where you have better control and make decisions that fit your lifestyle. Learn 4 different ways to organize your business.
We cover:
Business descriptions

Declutter your workload

Changing business habits

Clarifying and planning

Outsourcing

Your next steps
Office Organization
An introduction to office organizational concepts that will reduce your overwhelm, save you time, get rid of clutter, and re-energize your business and life.
We cover:
Benefits of an organized office

Decluttering your workspace

Letting go of the unnecessary

Decluttering your inbox

Finding the right organizational tools

Cleaning up your computer
Schedule Tasks Like A Boss
Are you prioritizing what needs to be done in your business and putting out fires as they pop up? Prioritizing and scheduling those important tasks is a skill. More importantly, it's a skill you can learn.
We cover:
Defining priorities

Eisenhowers Time Management Matrix

Utilizing time management
Run Your Business On Auto-Pilot
Would you like a business that allows you time outside of your business. Where you run your business instead of the other way around.
We cover:
Planning procedures

Streamlining client contact

Software

Outsourcing Vs. hiring

Exit strategies

Value of continuing education
Outsource Or Hiring
Knowing when a business should hire and when they should outsource a service can be tricky. Learn how and when how each choice can benefit a business.
We cover:
Determining when a business needs help

Employee Vs. contractor

What to outsource

Determining Return On Investment
Holiday Prep
Groomers should be able to enjoy the holidays without giving up income or passing out at the end of the day. Learn to prepare in advance to make the holiday season less stressful and more profitable.
We cover:
Cleaning, inventory and maintenance

Prepping clients

Policies, procedures, and systems

Prepping employees
Answers to Your Questions
How much is the Business Workshop Library?
What's the refund policy?
What's included in the BW Library?
I'm having technical difficulties, who do I contact?
Can I cancel at any time?
What if I'm unsure of joining a membership?